Our mission is to make disciples of Jesus Christ for the transformation of the world.
Leadership Team:
Our leadership team recognizes the authority of God, and realizes that we are shepherds who serve under the Chief Shepherd, Jesus Christ. We desire to devote ourselves to prayer and to the ministry of the Word. Our passion and goal is to equip the believers for the work of the ministry until we all attain maturity in the fullness of Christ.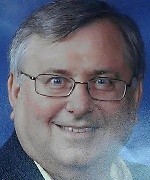 Reverend Robert T. Wellman (Pastor Bob)

On July 1, 2013 the Rev. Robert T. Wellman was appointed by Bishop Matthews to the Sandy Mount United Methodist Church in Finksburg, Maryland. Pastor Bob was born and raised in Erie County Pennsylvania. He attended college at the West Virginia Wesleyan College in Buckhannon, WV and received a B.A. degree in Bible and Religion and Psychology. From Wesleyan, he continued his education at the Methodist Theological School in Delaware, Ohio where he received a Masters of Divinity Degree. He was ordained a Deacon and an Elder in the United Methodist Church by Bishop Roy C. Nichols of the Western Pennsylvania Annual Conference. His first appointment was in Hyndman, PA to Grace United Methodist Church, just north of Cumberland. He served churches in the Western Pennsylvania Annual Conference before moving to the then Baltimore Annual Conference. He has served churches in Maryland and West Virginia while in the Baltimore-Washington Conference. His most recent appointment was to the Davis Memorial UMC on the Cumberland-Hagerstown District.
He was also the President of the South Cumberland Parish of United Methodist churches, he served as a mentor for the Cumberland-Hagerstown District in Cumberland. Most recently he served as the Director of the Interfaith Community Food Pantry in Cumberland which provided food and vouchers for food to an average of 300 families each month.

Pastor Bob looks forward to bringing his unique gifts to the area of ministry at Sandy Mount UMC and hopes to provide opportunities to make new disciples of Jesus Christ for the transformation of the world.
Pastor Emeritus, Rev. Bill Boyer

Bill is an ordained elder in the United Methodist Church. Prior to retiring in 2005, Bill served as pastor of Prospect-Marvin UMC, Sandy Mount UMC, and Silver Spring: Oak Chapel UMC. Currently, Bill preaches and leads worship in addition to singing in the Chancel Choir. He is a published writer. Bill and his wife Mary live in Westminster, MD.
Local Pastor (retired), Dave Pyle

Dave served as lay pastor or interim lay pastor at several churches. At Sandy Mount, Dave helps coordinate service work at the New Windsor Brethren Center, sings in One Accord (men's chorus), and preaches. Dave has a master's degree in human growth and development with over 60 additional graduate credits. He is retired from the Baltimore County School System where he served as supervisor of elementary schools and science/environmental education. Dave helped establish and served as the executive director of the Northeast Social Action Program (NESAP), an ecumenical organization in ministry to the needy. Dave and his wife Lois are residents of Finksburg, MD.

Lay Leader/Certified Lay Servant, George Pittinger

George has attended Sandy Mount UMC since 2011, became a member in the spring of 2012. George is a Certified Lay Speaker, for 3 terms, (9 years). George has served on SPRC, Council, Trustees, Outreach and the Worship design Team. George currently sings with the Praise Team (Praising Grace) and the men's group (One Accord). George believes that God is with us at all times and he will lead us to serve others, to do his works and bring us closer to him to make disciples of Jesus Christ.
Praise Team Worship Leader, Charlie Im

Bio coming soon!

Chancel Choir Director and Organist, Connie Clarke
I have been serving congregations as an organist and choir director since I was 14. I am grateful that the Lord put people in my path to guide and direct me through my foolish youth so that choosing to use my musical skills to serve became a clear direction for my life's work. I have served in seven different congregations and each one has taught me something new and fresh about the worship of our Lord. The two that made a huge impact on me were playing for the residents at the Rosewood State Hospital and St. Luke's A.M. E. church one summer. To hear the voices come alive of the profoundly impaired as a familiar hymn was heard was truly amazing. Likewise, to hear the spirited voices and deep emotion at St. Luke's was unlike anything my trained ear had experienced. They taught me to let go and express what was in my heart. Now retired from teaching music in public school, I am grateful for everyday that I have to serve the Lord through song, playing the organ and leading our Chancel Choir. C.Clarke
Director of Christian Education, Terri Pittinger